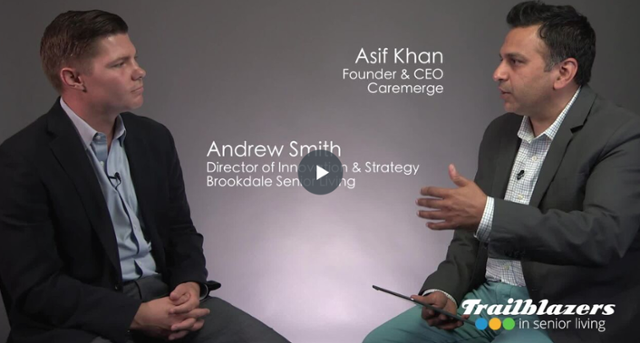 In Caremerge's first Trailblazers in Senior Living installment, Asif Khan, Caremerge Founder/CEO and Andrew Smith, Brookdale's Director of Strategy & Innovation, discuss Technology's Impact on Generational Relationships.
About The Speakers
As Brookdale's Director of Strategy and Innovation, Andrew Smith supports the organization's strategic planning, partnerships and innovation efforts. This includes partnering with Brookdale's department leaders to enhance operations as well as identify and develop new senior living products and services.
Asif Khan co-founded Caremerge in 2010 and currently serves as the company's CEO. What began as a passion project at a dining room table in Oak Park, IL has become the most widely used all-in-one platform to empower families, residents and staff in senior living.